April 2017 is the last public
Bisbee Hunt for Turquoise. 
This is our first-hand eyewitness account of why: Most importantly, Freeport-MacMoRan mine employees (volunteers for this event) perform a briefing with all of the participants. Subsequently, this briefing includes stressing the dangers of the uneven terrain and highlighting the fact that climbing onto the steep dirt and rock berms surrounding the designated search area, is strictly prohibited. Most notably, the video below features the driver's safety briefing. 
Consequently, a young (local) man climbs the steep dirt berm along the edge of the designated search field. Upon witnessing a young local man up on top of one of the steep dangerous berms, a roaming volunteer shouts at the young man to come down off the berm. The young man replies, "I paid my $100.00 to be here and there are only a few minutes left in this session. What are you going to do, arrest me?" He throws baseball size chunks of ore containing Bisbee Turquoise down to his father at the bottom of the berm. He then runs across the steep berms (like a Billy goat!) and barricades himself in a Port-a-John.
From there, he shouts to the growing concentration of Freeport volunteers "don't steal his turquoise!" When he emerges, several Freeport volunteers escort him off the property and into a company van. This young man's turquoise tour concludes with a free ride in a Bisbee Police cruiser, waiting at the entrance of the property.
                  This one young man's selfish actions ends the                              Bisbee Turquoise Dig indefinitely.
The Bisbee Mining Museum sells 100 tickets for 3 sessions of the Hunt for Turquoise. Turquoise enthusiasts can go on one dig or all three digs. In order to attend the first Friday's early turquoise hunt, the museum requires you to purchase a museum membership, in addition to the $100.00 ticket. The Museum makes $10,000 from the ticket sales to this event: 100 tickets @ $100.00/ticket.
As a result of finding one Bisbee turquoise nugget, the value of your nugget would pay for your ticket! * Consequently, the problem is that it is very hard to find any turquoise in the sea of red rock. Above all, a thin layer of dust is all it takes to conceal the blue turquoise from view. Therefore, a water spray bottle proves to be extremely handy. In conclusion, this experience for a turquoise enthusiast is priceless, whether they find turquoise or not!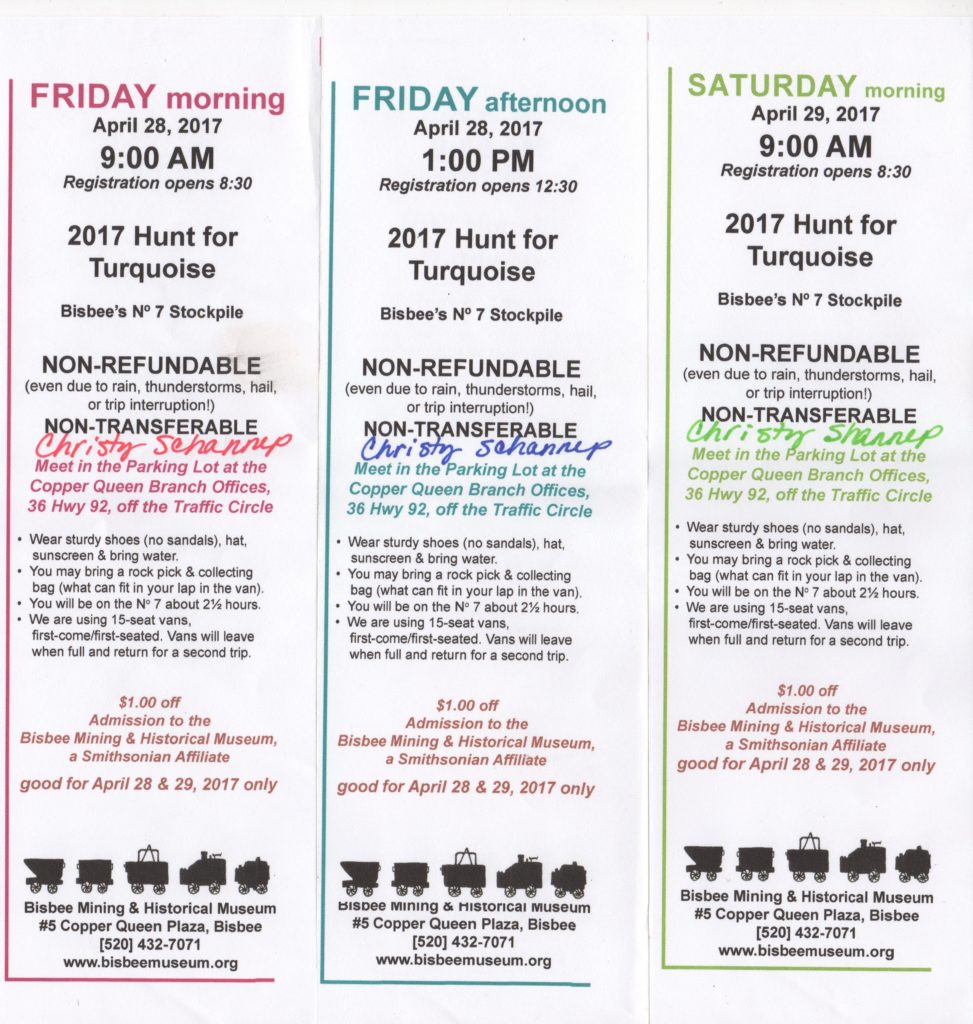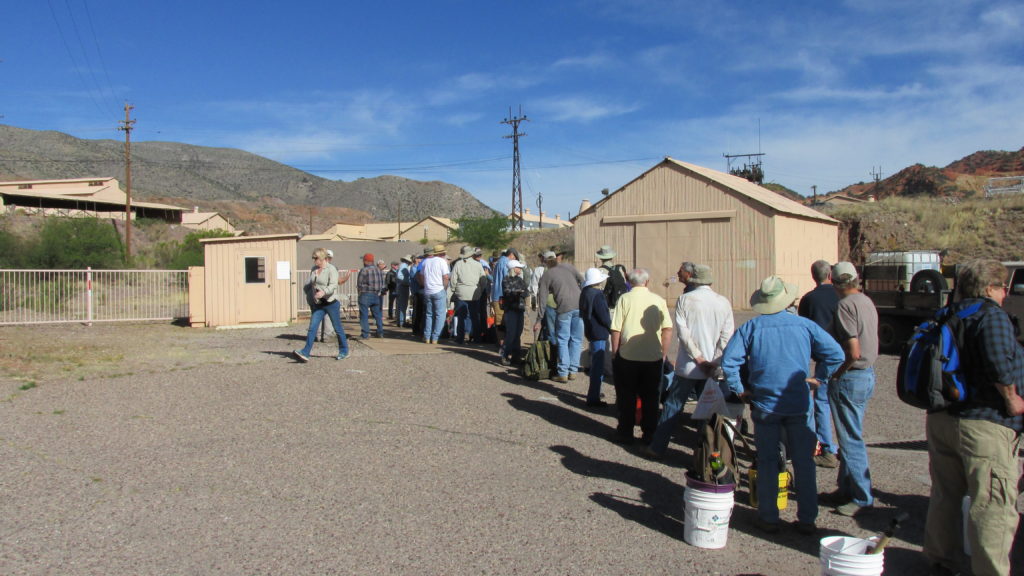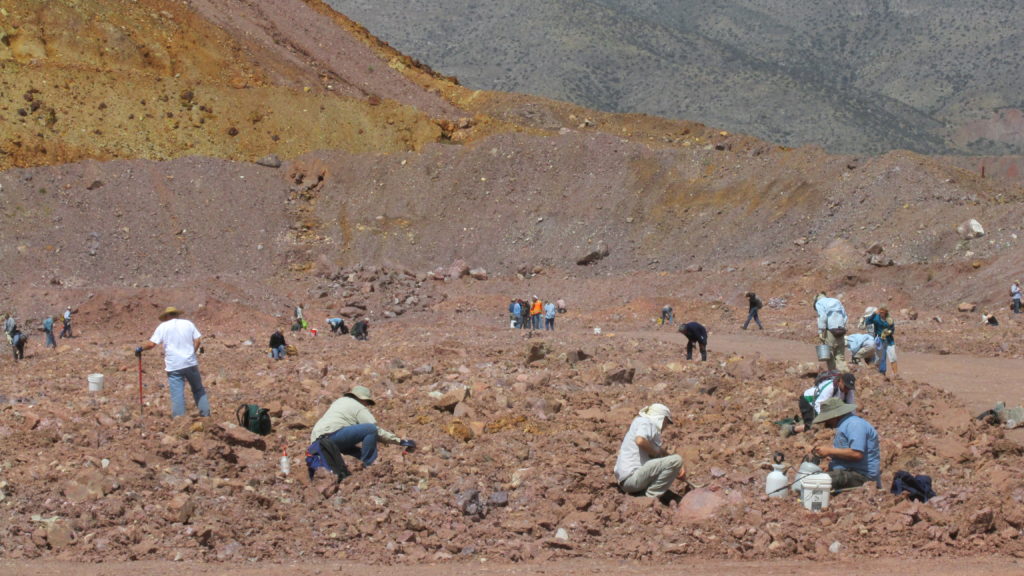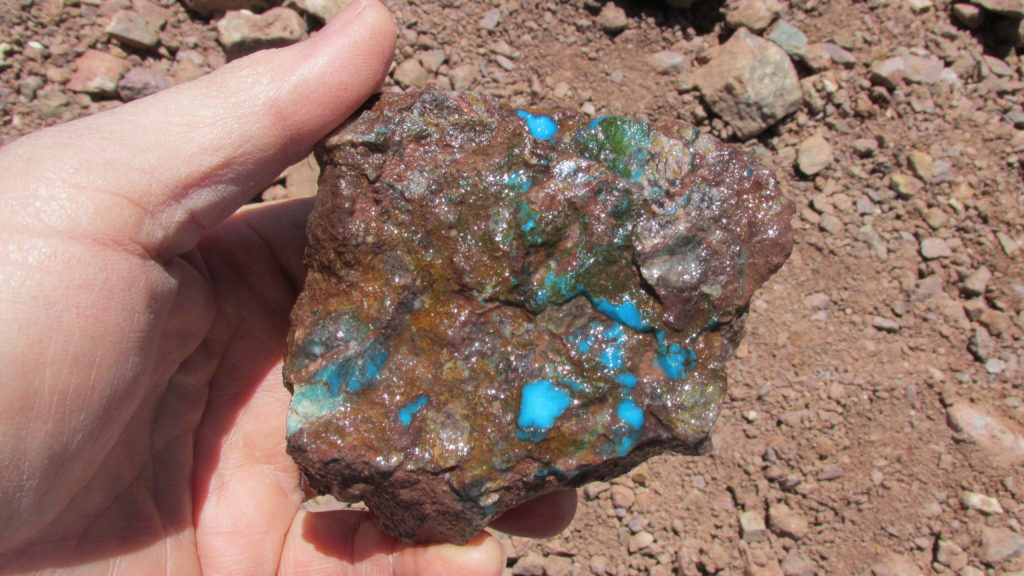 TucsonTurquoise 1993-2023 © Schannep Ventures L.L.C. ALL RIGHTS RESERVED