MOST IMPORTANTLY, WE WANT TO BUY YOUR TURQUOISE:
TURQUOISE & STERLING SILVER JEWELRY
TURQUOISE CABOCHONS AND SLABS
TURQUOISE ROUGH ( NATURAL TURQUOISE ROCK ).
ALSO, ATTENTION GOLD / SILVER PROCESSORS / SCRAPPERS: WE WANT TO BUY ANY LOOSE TURQUOISE STONES / CABOCHONS YOU MAY TAKE OUT OF YOUR METAL BEFORE PROCESSING!
IN ADDITION, WE WANT TO BUY YOUR LAPIDARY & SHOP EQUIPMENT:
Diamond Pacific © and Highland Park © Cabbing machines
Flat Laps
Rock Saws
Lapidary Hand Tools
Jewelry Benches
ALSO, WE WANT TO BUY YOUR STERLING FLATWARE AND COFFEE / TEA SETS.
Most importantly,  current "spot price" of pure 100% silver.  Consequently, Sterling silver is 92.5% pure.  Notably, Tucson silver buyers typically buy at 50% to 60% of "spot price." MOREOVER, WE PAY CONSIDERABLY MORE!
Not to mention, we buy and sell quality American turquoise jewelry in Tucson with a 30 year record.  Equally important, we feature multiple consignors who sell a wide variety of  turquoise jewelry including squash blossoms, belt buckles, rings, bracelets, necklaces, pins, earrings, etc.  Finally, we sell both Native American Indian and Mexican turquoise jewelry.

First of all, please visit our website for days & hours of operation: American Antique Mall.com
Secondly, we are at 3130 E. Grant Road in Tucson, Arizona (520) 326-3070
Most importantly, please visit the American Antique Mall 24 hours a day on by clicking on American Antique Mall.com.

WE BUY AMERICAN TURQUOISE JEWELRY, TURQUOISE CABOCHONS AND TURQUOISE SLABS, AND NATURAL TURQUOISE IN THE ROCK FORM!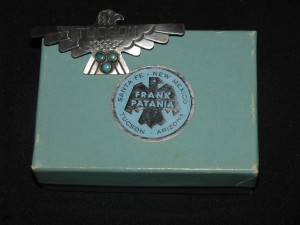 As a matter of fact, Frank Patania Tucson Thunderbird pin and original box. Consequently, the Patania family, years ago, make custom pieces for many customers including charities and special events like golf tournaments.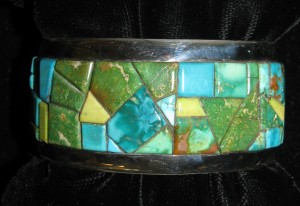 As an illustration, here is a Nana Ping Turquoise Cobblestone Bracelet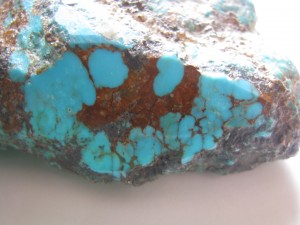 First of all, here is Kingman Stabilized Turquoise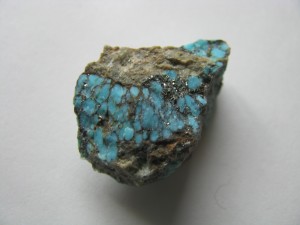 Secondly, here is Morenci Spiderweb Turquoise
Tucson Turquoise 1993 – 2023 © Schannep Ventures L.L.C. ALL RIGHTS RESERVED