Most notably, below are turquoise earrings. Consequently, this is a a very small representation of what we sell at Tucson Turquoise. In addition, here you will find earrings by the Navajo, Zuni, Hopi, and Santo Domingo Pueblos. Also, some of the earrings have artist names or their hallmarks and some have no signatures. Most interestingly, the pieces with no signatures are usually older. 
---
Most noteworthy, we sell earrings with Arizona turquoise including: Bisbee Turquoise, Kingman Turquoise, Morenci Turquoise, and Sleeping Beauty Turquoise. In addition, some earrings feature inlay turquoise slices, while others feature turquoise nuggets.
---
By all means, hurry in for best selection! Most notably, all items here are actively for sale in our brick and mortar store in Tucson, Arizona!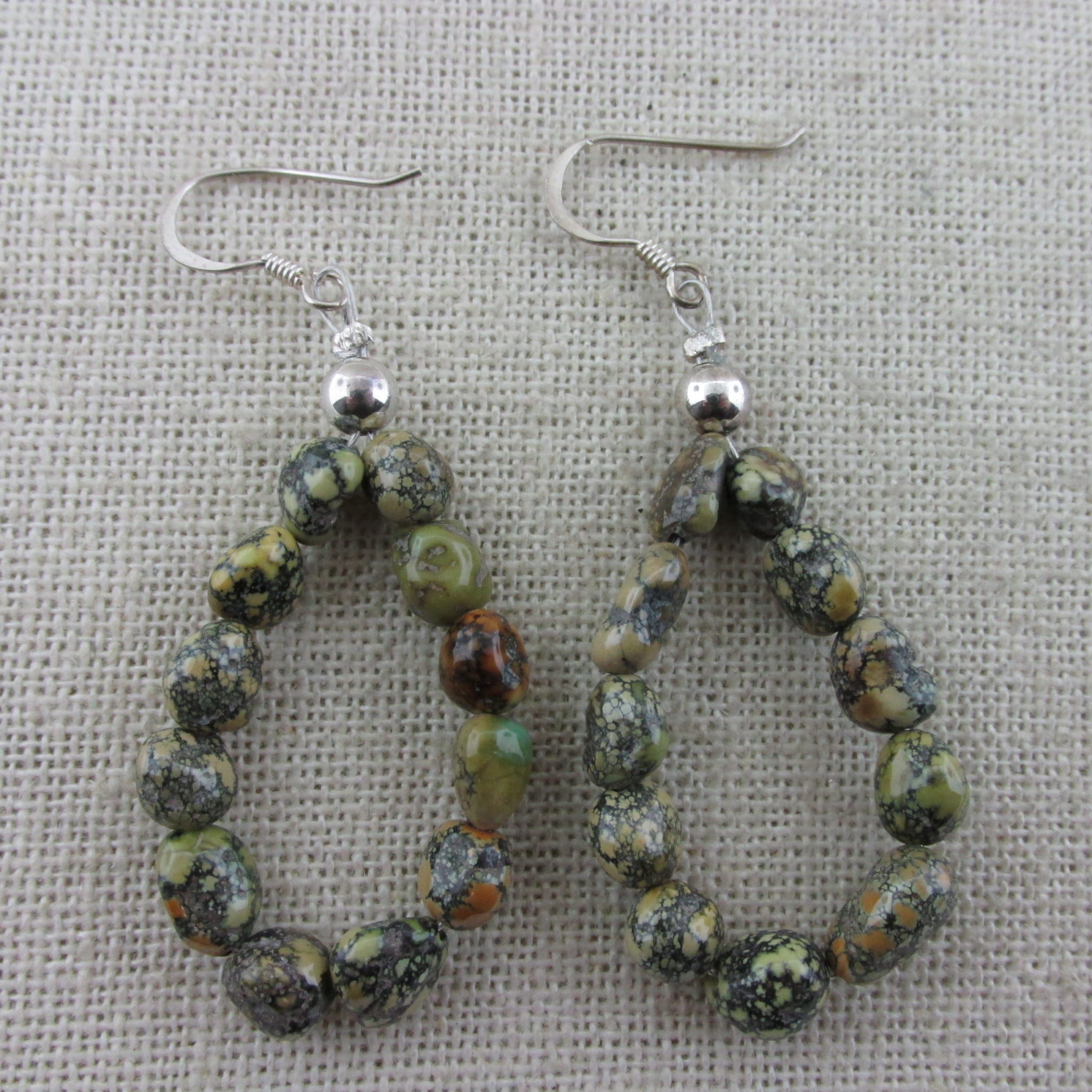 In particular, this is Damele (Variscite) from the Benny Damele Ranch in central Nevada. Equally important, since the previous owner, Tony Cotner passed away, the supply has not yet been located!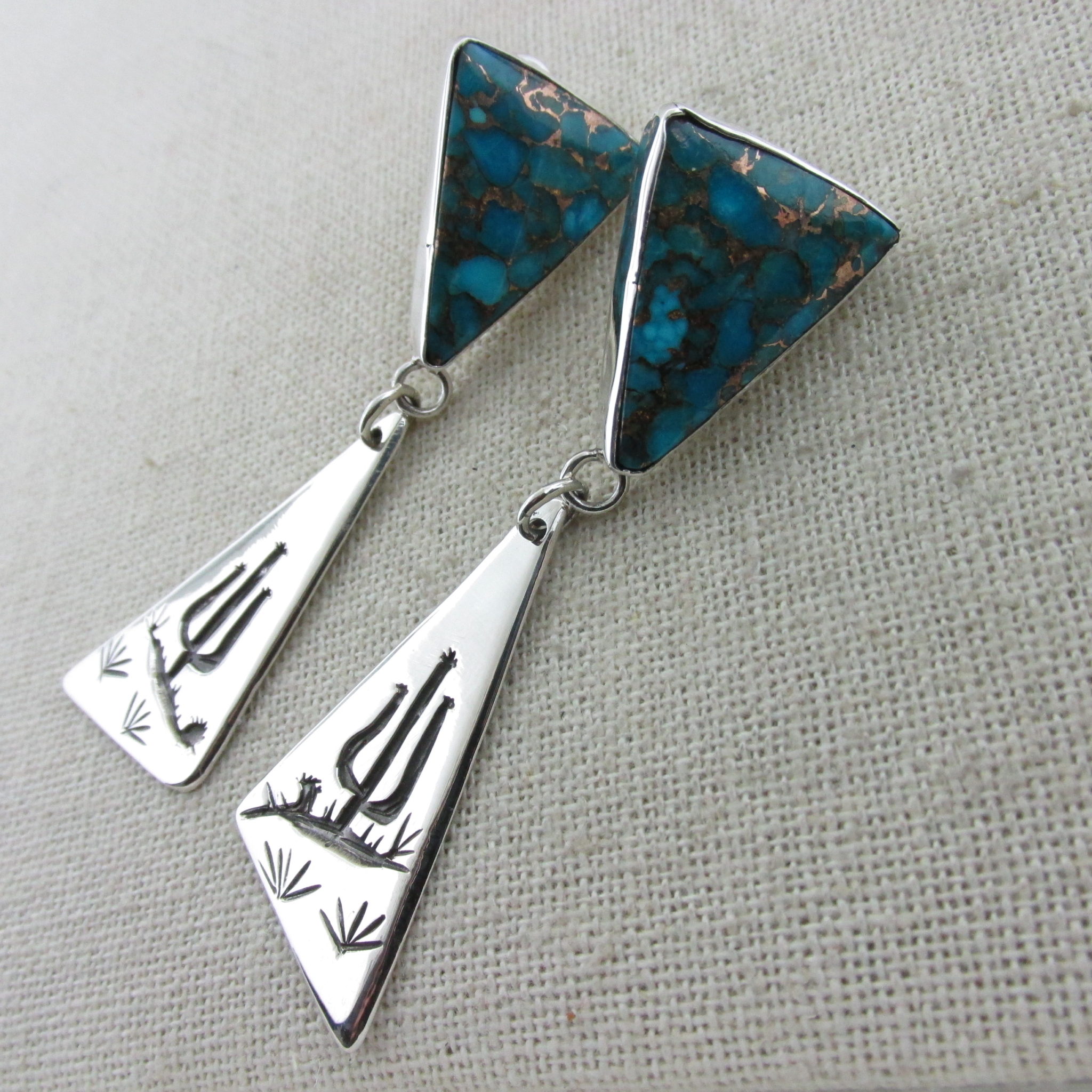 As a matter of fact, these are copper infused Kingman Turquoise. Consequently, Colbaugh Processing (owners of the Kingman Mine)  recently introduces this product to the market place.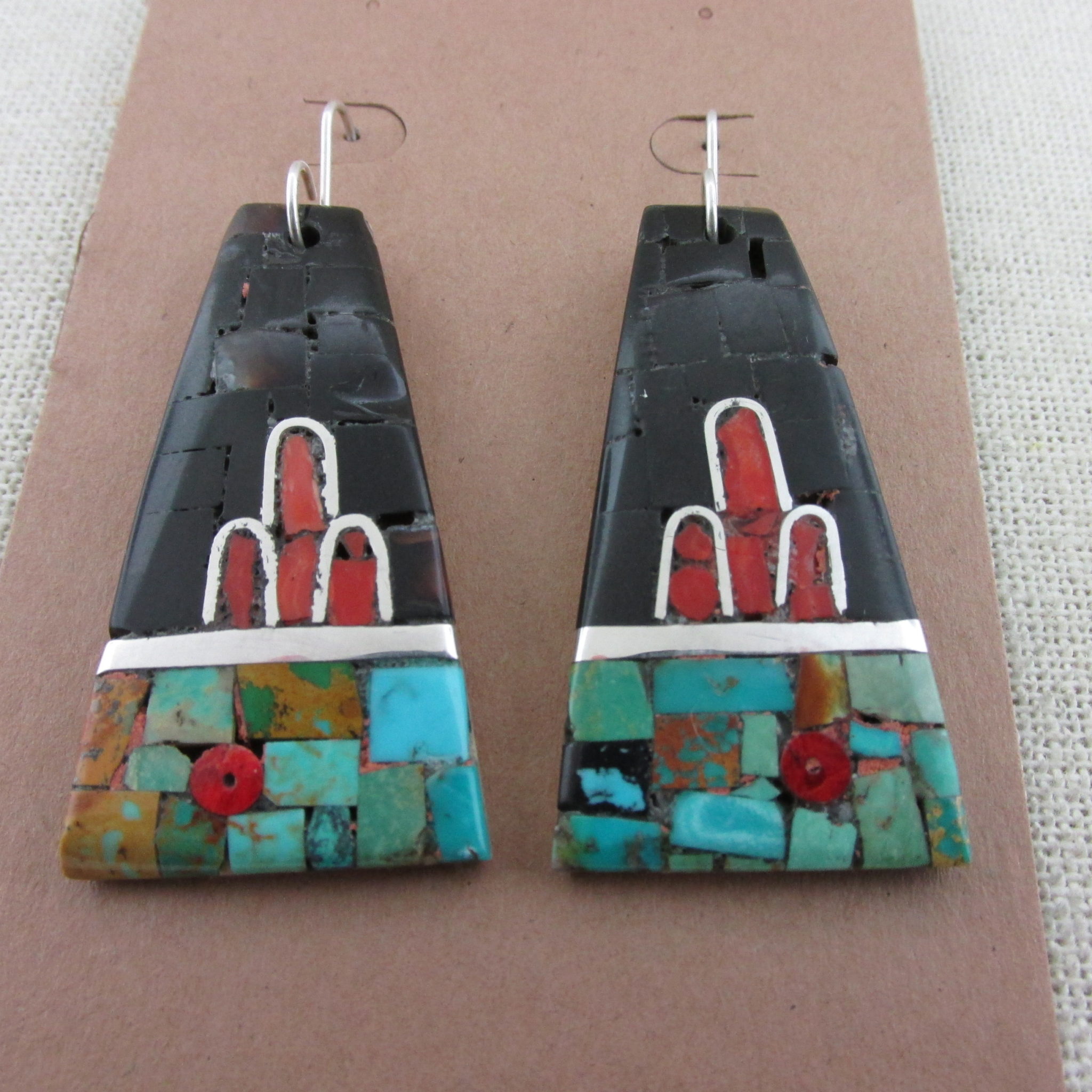 In addition, Santo Domingo earrings feature a mosaic of turquoise and spiny oyster. Most notably, the Lovato family are amongst the most famous creators of this jewelry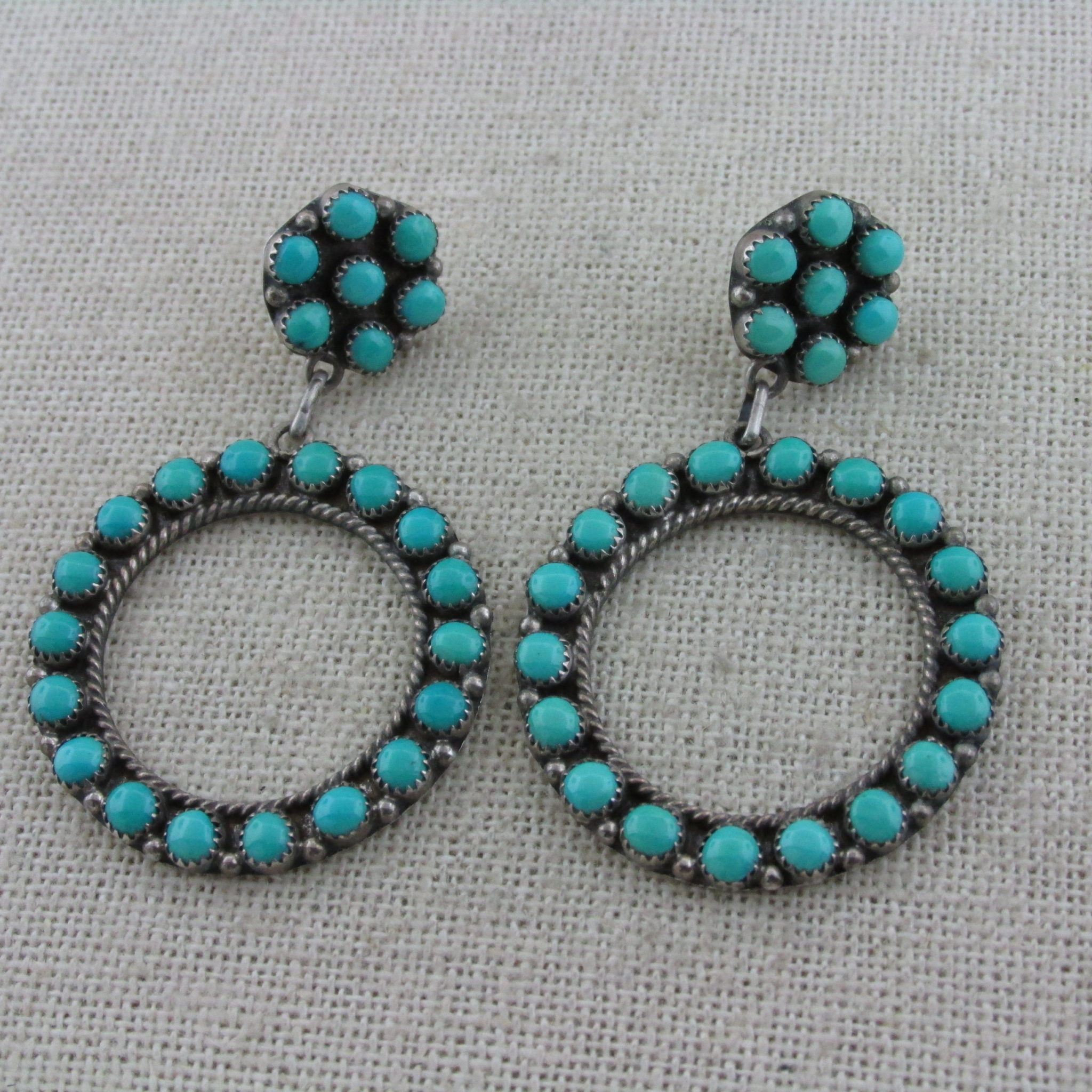 By all means, Sleeping Beauty Turquoise "Birdseye" Earrings are quite interesting. Most interestingly, Sleeping Beauty Turquoise is (was) a favorite for the Zuni, as it was consistent in color and clear of matrix. Most notably, Sleeping Beauty Mine has been inactive for over a decade.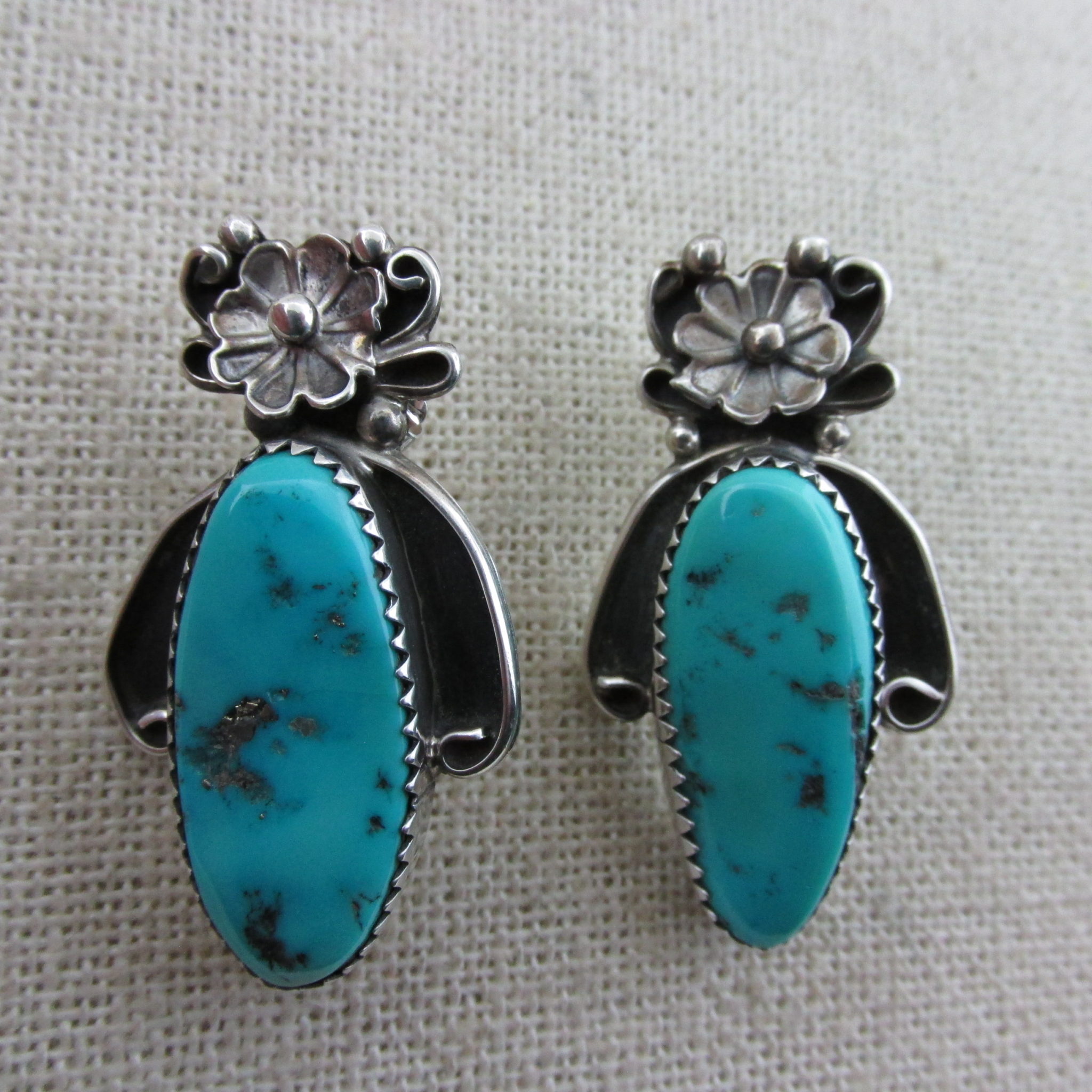 In this case, these are Sleeping Beauty Turquoise Earrings. INTERESTING FACT: Sleeping Beauty Turquoise actually comes out of the mine with white matrix. Consequently, black die is added at the turquoise via a cement mixer at the mine site. The black die adheres to the white matrix, making it black. Most notably, this information comes to us directly by the original mine owners of Sleeping Beauty.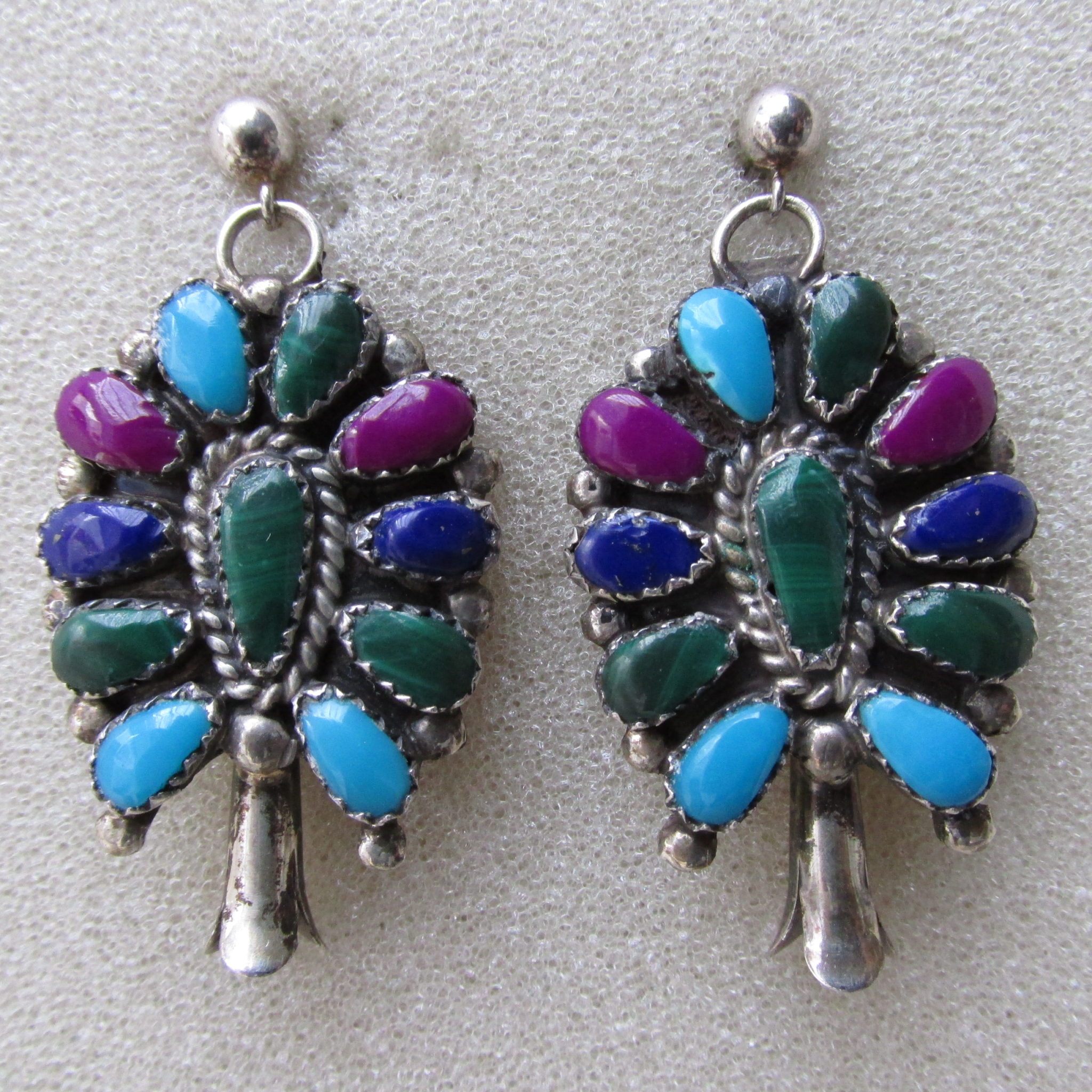 Turquoise, Malachite, Lapis Luzuli, and Sugalite adorn these squash blossom earrings.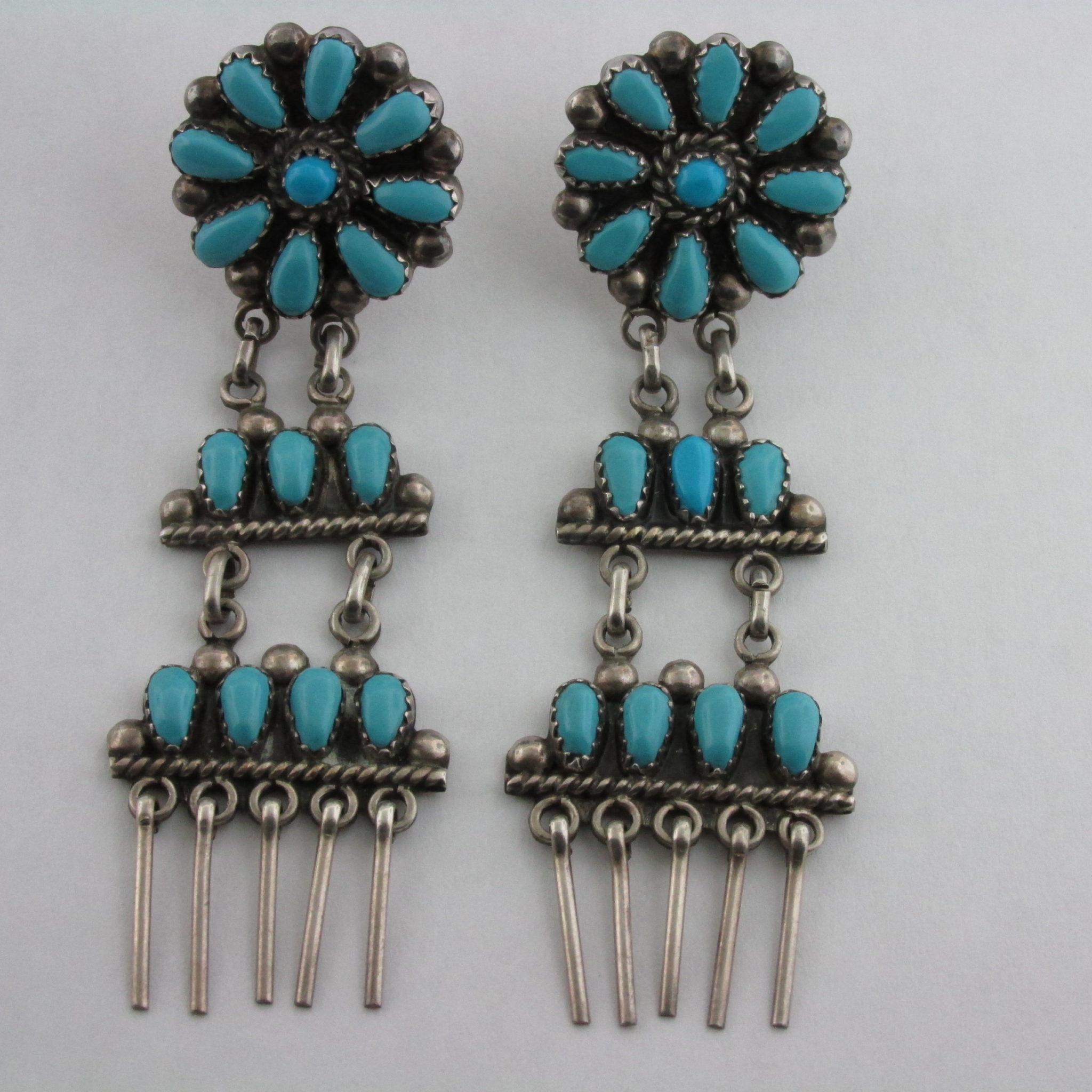 Finally, this is Sleeping Beauty Turquoise from Globe, Arizona. Consequently, these are Zuni Chandelier earrings. Most interestingly, this type of turquoise is the choice of the Zuni for it's clear and consistence.
In addition, this is a small fraction of our hundreds of earrings!
All earrings pictured here are subject to prior sale.
Tucson Turquoise 1990 – 2023 © Schannep Ventures L.L.C. ALL RIGHTS RESERVED